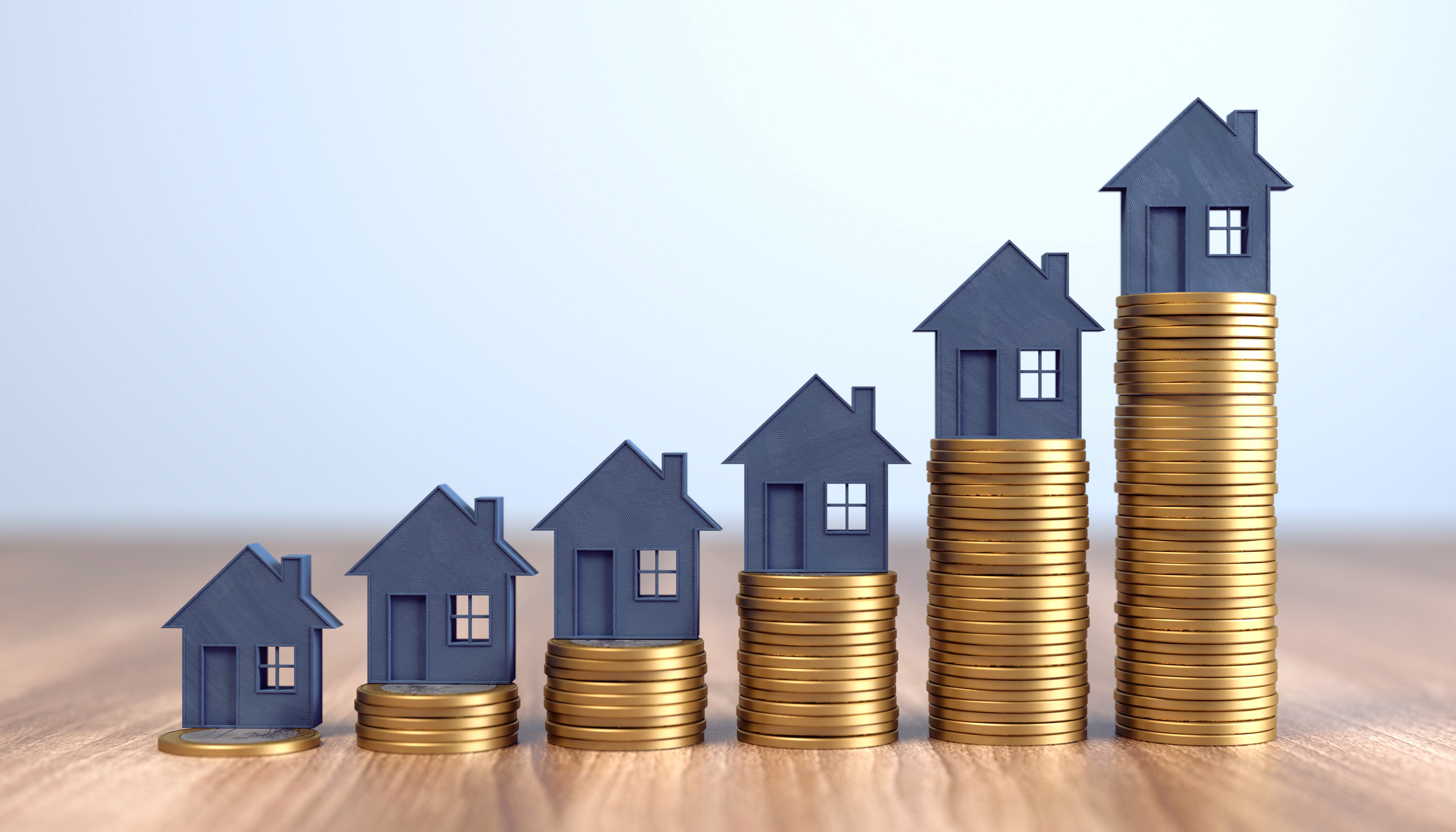 While investments in real estate have long been common for defined benefit plans, more plan sponsors are turning to property markets to diversify their defined contribution (DC) portfolios. Large DC plans may have access to vehicles that invest directly in real estate or private real estate funds, but most DC plans do not. Therefore, this article focuses on real estate investment trusts (REITs[1]) and considers
Rationales for and against a dedicated real estate allocation
Size of real estate as an asset class
Do REITs perform more like real estate or like stocks?
How a DC plan can obtain access to REITs in its fund menu
Rationales for and Against Dedicated Real Estate Investing
Aside from capital market assumptions, investors cite several common considerations pertaining to a dedicated allocation to real estate, as listed in Exhibit 1.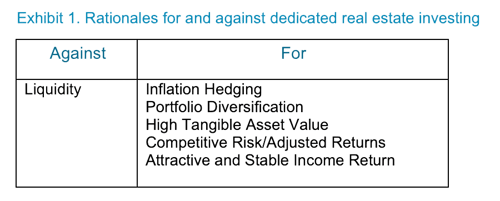 Taken at face value, the preponderance of the rationales is on the side of dedicating an allocation to real estate.
Size of Real Estate as an Asset Class
Real estate is an important part of the US and global economy. A substantial portion of the world's wealth consists of property. Exhibit 2 lists the year-end estimates of the respective sizes of the US bond, stock, and property markets for 2017.

It would seem obvious that real estate would be a part of a long-term investment portfolio. Indeed, when it comes to long-term institutional investors, institutional portfolios, including those for pensions and endowments, often invest in real estate, whether via fund investments or direct investment. What about real estate for DC plans?
Unlike the case with institutional investors, DC plan choices typically consist of open-end mutual funds, exchange-traded funds (ETFs), and commingled funds. These vehicles offer plan participants generous liquidity, ranging from intraday (ETFs) to daily (open-end) to monthly (commingled funds). Such ready liquidity would seem to preclude the availability of such funds to invest directly in real estate, so very few do. As a result, the only type of real estate investment typically available (if one is available at all) within a DC investment menu is a REIT fund.
What is a REIT?
REITs, or real estate investment trusts, are companies that own or finance income-producing real estate in a range of property sectors. These companies have to meet a number of requirements to qualify as REITs. Most REITs trade on major stock exchanges[6]
As its name states, a REIT is a trust that invests in real estate. The IRS requires a REIT to pass 90% of its taxable income through to its shareholder. For decades, REITs offered exposures to different property types, such as office, hotels, retail, and apartments. In recent years new types have emerged, such as "student housing, data centers, healthcare offices, medical facilities, and assisted-living communities."[7]
While Exhibit 2 establishes that the size of investable US property is substantial, the size of the US REIT market is less so. Cohen & Steers reported an implied size of $832B for US REITs as of September 30, 2018[8]. Compared to Exhibit 2, this would mean US REITs amount to about 5% of investable commercial property.
Do REITs Preform Like Real Estate or Like Stocks?
REITs vs. Commercial Real Estate
To compare REIT returns to real estate returns, we use the NCREIF Transaction Based Index (TBI) to represent the returns to commercial real estate. TBI's return history dates back to 1994. We find that REIT returns lead commercial property returns by one to two quarters. Plots in Exhibit 3 illustrate this lead-lag pattern.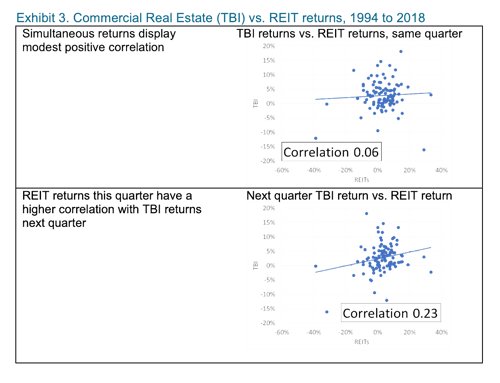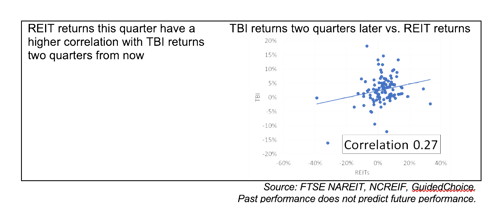 Exhibit 3 illustrates that the return cycles we observe in the public market take a quarter or two to flow through to the private market. While the correlation to commercial property returns this quarter is close to zero, the correlation of REIT returns with commercial property returns next quarter or the following one is on the order of 0.25. Thus, over the past quarter-century, REITs have tended to predict commercial property returns in one to two quarters more than they have correlated to same-quarter returns.
REITs vs. Small/Mid-cap Value Stocks
REITs perform a lot like small/mid-Cap Value stocks, as supported by Exhibit 4.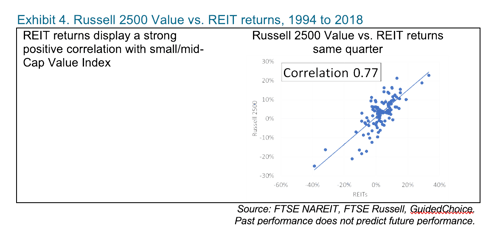 Exhibits 3 and 4 suggest that REITs perform more like stocks – specifically, small/mid-Cap Value stocks – than like private real estate. That observation is not surprising, considering that most public REITs are in the major broad stock indexes.
How Does a DC Plan Obtain Access to REITs in Its Fund Menu?
Some investors may be surprised to learn that most publicly available REITs are already available in their plan's index funds. Most public REITs are represented in major stock indexes. Exhibit 5 lists ten of the largest REIT ETFs and the percentage of their holdings that are also in a broad US or foreign stock market index.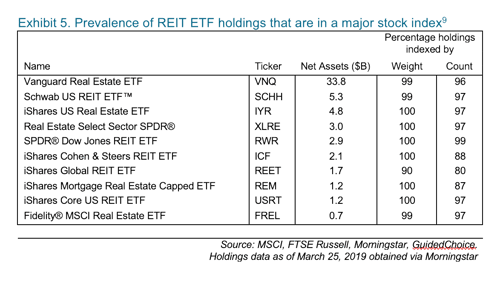 In the case of the largest REIT ETF, Vanguard Real Estate ETF, 99% of its weight is invested in securities (including those in an underlying fund) that are also in a major index.
In Exhibit 5, "Weight" shows the percentage weight of the ETF invested in assets that comprise a major stock index. "Count" refers to the percentage of the number of securities that are in a major index, without regard to their weight in the fund.
What this means is that if a DC plan already has a large cap index fund and a small-cap index fund, it already has exposure to all the REIT exposure it could obtain by adding a dedicated REIT fund.
Upon Further Consideration: The Case for REIT Funds
The discussion above does not mean there is no basis for having a dedicated REIT fund in a DC plan. While Exhibits 3 through 5 suggest the case for a dedicated REIT fund might be weak, two additional rationales may support including a dedicated REIT fund in a DC plan line-up:
If capital market assumptions extend to the level of equity market sectors, at times they may find the REIT sector specifically appealing
The line-up's active mid-cap or small-cap funds might underweight REITs or not hold them at all
The first rationale would make a dedicated REIT fund desirable to enable overweighting the sector. The second rationale is the case for a completion strategy that seeks to avoid an inadvertent underweight in the sector.
Conclusion: DC plans might not necessarily need a dedicated REIT fund, but there is nothing wrong with them having one.
For DC plans whose only access to real estate is through REIT funds, chances are the plans already have access to REITs through their index funds. The tendencies of REITs both to perform like stocks and to belong to broad indexes tend to weaken the case for including a dedicated REIT fund in the line-up. However, capital market assumptions about REITs versus other stock market sectors might support including a dedicated REIT fund. Further, the likelihood that active mid-cap and small-cap managers might underweight REITs can also support including REITs on a plan roster.
Works Cited
Bohjalian, T., & Cheigh, J. (2018). REITs: Answering the Call for DC Plan Diversification. New York: Cohen & Steers.
Brandon, K., Sung, S., & Podziemska, J. (2018). SIFMA Fact Book 2018. New York: Securities Industry and Financial Markets Association.
Kanoria, S., & Muzaffar, H. (2017). Understanding real estate as an investment class. New York: McKinsey.
NAREIT. (2018). Estimating the Size of the Commercial Real Estate Market. Washington, D.C.: NAREIT.
Ramirez, K. (2017). Value of U.S. housing market climbs to record $31.8 trillion. HousingWire.
What is a REIT? (2019, March 28). Retrieved from reit.com: https://www.reit.com/what-reit, accessed March 28, 2019 2:50p PDT
[1] When discussing REITs, this report focuses exclusively on publicly traded REITs.[2] (NAREIT, 2018)[3] (Ramirez, 2017)[4] (Brandon, Sung, & Podziemska, 2018)[4] Ibid.[6] (What is a REIT?, 2019)[7] (Kanoria & Muzaffar, 2017)[8] (Bohjalian & Cheigh, 2018)[9] "Indexed" holdings refers to holdings that were also found in an index ETF representing either the Russell 1000 (IWB), Russell 2000 (IWM), MSCI EAFE (EFA), or MSCI ACWI ex US (ACWX).