Article written by Olivia Jack, Corporate Insights
The emergence of plan health data and tools that intuitively communicate critical plan and aggregated participant metrics continues to be the most prominent trend within the digital plan sponsor arena. At the start of 2017, 40% of firms within the Retirement Plan Monitor – Institutional coverage set offered some sort of plan health tool.
Since then, Lincoln Financial Group introduced a new plan health tool, Empower Retirement and VALIC added new plan-health-related data to homepages, and both Principal and T. Rowe Price made significant improvements to existing tools. Today, 73% of RPM-I firms offer a plan health tool or provide plan-health-specific data on plan sponsor sites. Firms looking to offer these resources often look to third-party vendors, such as fintech and analytics provider DailyVest, to integrate established platforms rather than build proprietary ones.
To enhance its PlanAnalytics plan health platform, DailyVest has recently teamed up with GuidedChoice, a digital investment advisory firm with nearly 20 years' experience providing retirement readiness data to plans and participants. The platform now provides retirement readiness scores at both the plan and participant level. It allows users to parse data by participant demographics, including age, salary, contribution rate and geography, and drill down to view data for individual participants. The ability to view statistics for specific groups or employees is central to an effective plan health resource, as it lets sponsors quickly identify sects or individuals who may need extra assistance in saving for retirement. Armed with this information, they can create targeted outreach campaigns with data-driven advice and solutions. Further, sponsors with multiple plans can view this data for each plan they administer or all their plans, affording these sponsors the same level of data flexibility. The platform also provides historical data, so sponsors can identify trends and assess the efficacy of any plan design changes or educational campaigns they may impose.
GuidedChoice's role in the partnership is to use its proprietary methodology to turn raw data it receives from DailyVest and transform it into retirement readiness scores, which are based off of retirement income projections. DailyVest then integrates the projections into the platform, providing effective visualizations to help sponsors garner insights from data more easily. The partnership allows for single-point integration, so sponsors do not need to supply data to another firm to receive the retirement readiness metrics. The image below depicts the platform's Favorites panel, which users can customize. The My Retirement Readiness tile displays the number of participants that fall into three retirement readiness score ranges. The Age 55+ tile provides the same data, but for the plan's oldest employees. Thus, the seemingly simple visualizations let sponsors glean powerful insights easily: 42% of all participants are on track, with scores between 90-100, but among those closest to retiring, only 21% are on track.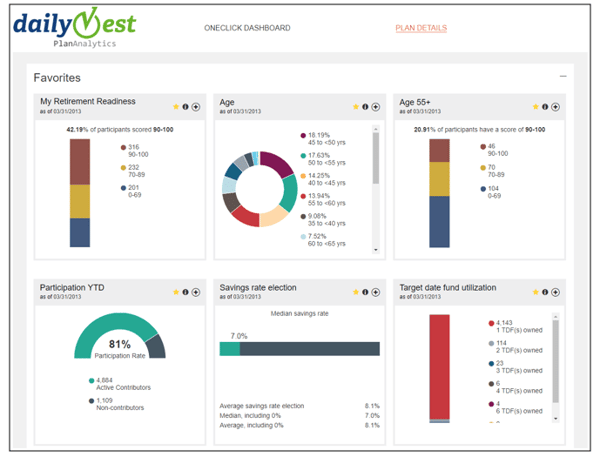 PlanAnalytics OneClick Plan Health Dashboard – Favorites View
The platform's new data embodies the industry-wide push to help sponsors assess their plans in a manner that will drive the best outcomes for participants. As firms continue to refine plan health offerings, there are some features we expect to see more frequently among RPM-I firms, including benchmarking data and modeling features. Benchmarks provide important context that can help sponsors interpret data, illuminating how their plans stack up to similar ones. The most effective benchmarking capabilities not only highlight average peer metrics, but offer data on leading peers, serving as more effective performance or plan health goals that sponsors should strive to achieve. Modeling features let sponsors view the impact of making design changes, such as increasing the automatic enrollment salary deferral rate or employer match, on the plan and the company. These features may show the effect on things like participant retirement readiness, plan participation rates and companies' bottom lines. These resources have the power to change the way sponsors review plans, develop outreach programs and design or redesign plans, and hopefully, help the many people who are unprepared for retirement improve their financial futures.
For more information about retirement readiness solutions from GuidedChoice:
Call 888-675-4532 x101 or email us at info@guidedchoice.com

For more information about the Dashboard or to set up a demonstration:
Contact a dailyVest representative at 520-577-5729, ext 1