You want to retire securely and know that you need to be prepared financially before you take the "leap." Have you done your homework?
Whether you are decades or years away, solid planning will make your retirement a golden time. Here's a helpful checklist help you prepare:
What is your retirement vision? What do you want to do? What would you like to achieve? Think about travel, leisure time and projects. Write them down. Share them with your spouse, partner and family and have a vision in mind.
Evaluate your health. Be committed to your health and well-being entering retirement. Do you have any chronic conditions or other health problems that may not be fully addressed? Be sure to schedule your teeth cleanings, medical check-ups, eye exams, etc.
What will your health insurance coverage look like? Vet your health insurance. What will your annual out-of-pocket expenses likely be? If retiring before 65, keep in mind that Medicare won't cover you unless you're completely disabled. Strongly consider a Medicare supplement ("Medigap") policy to cover expenses that Medicare doesn't. Consider other supplemental insurance, such as long-term care insurance. Most nursing homes, assisted living and home care are generally not covered by Medicare.
Decide if you want to work, and if so, how much. You may want to capitalize on a hobby as a part-time job (dog walker, piano lessons, barista). If you're going to work, try to nail down what hours you want to work and how much you're hoping to make.
Pay off any debt. Credit card debt should be the first to go, followed by vehicle, college and home equity loans. Your mortgage payment can be the last to go since it probably has the least amount of interest – and it's tax deductible. You also may consider selling your home to pay off your mortgage and then renting or buying a smaller place without going into debt.
Are you due any inheritances or special payments? It's always a pleasant surprise when someone leaves you money. Find out if relatives have named you as beneficiaries in their estate plans.
Do you have "whole" or "universal" life policies? These insurance products may have built up cash values over the years and are often a forgotten source of wealth. You may be able to cash them in or obtain loans against their "equity" values.
Evaluate all of your assets. Check your 401(k), your Social Security statements, home equity and other savings. Keep in mind that home equity is particularly important since it's a source of wealth. You may be able to obtain a "reverse mortgage" that will pay you monthly income – if you qualify. Put together a balance sheet that lists all of your assets.
Plan for Social Security. It no longer makes sense to blindly take Social Security at age 65. While the government will pay a full benefit at your "normal" retirement age – 66 for most Americans – you can boost your monthly payments up to 30% by waiting until age 70. And if you absolutely need to, you can start taking benefits at age 62, although at a reduced lifetime rate. So it's essential to see how to maximize your – and your spouse's – benefits.
Creating a spending budget. Start by estimating out how much you need to spend each month on the essentials (housing, food, healthcare, etc.) —and don't forget inflation. Add in some additional funds to cover the fun things you'll do. Don't forget other expenses such as home improvement/repairs, taxes, a car or other miscellaneous items. How much will they cost?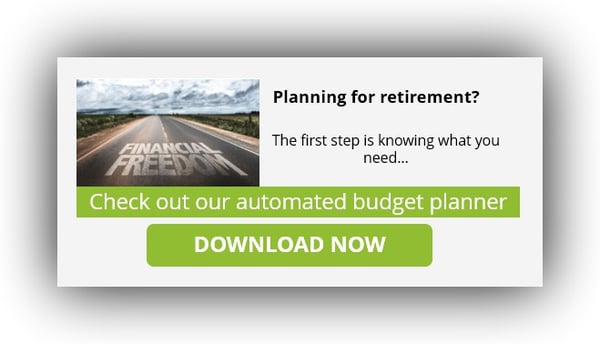 If you are looking for financial advice on how to maximize your retirement funds using our financial guidance theory, click here to learn more.