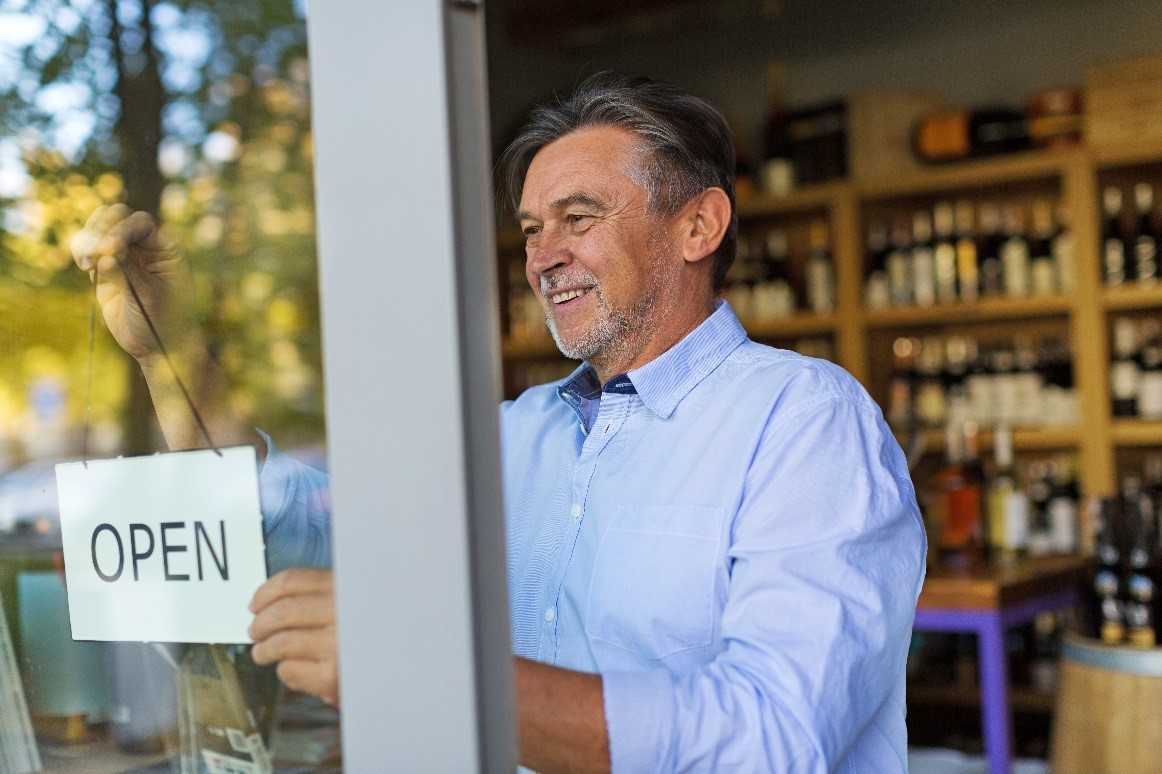 Do you own and operate a small business? If you're able to offer a retirement plan, you have several options that will help you nurture and retain employees.
Investing in a small-company retirement plan offers multiple benefits to the employer:
Can help secure and protect the future of your employees, thereby creating goodwill.

Will help you get much-needed tax benefits and ensure tax savings.

Can attract top talent and retain your valuable employees.

Can ensure that you are compliant with the IRS regulations.
You can offer these plans with confidence if you know how they work and can customize them for your company. Here are your options:
The 401(k)—A Retirement Savings Plan
An employer-sponsored 401(k) allows employees to contribute money to a retirement account. Like all 401(k)s, contributions are tax-deductible. They can invest up to $18,000 a year (through 2017); $24,000 total if they're over age 50.
Money invested in a 401(k) is deducted from an employee's paycheck before taxes are withheld, resulting in huge savings in the long run. Withdrawals, though, are taxable by the IRS and subject to an early-withdrawal penalty of 10% before age 59 ½.
Small business owners are often worried whether investing in a 401(k) plan is beneficial because of the costs involved, which include recordkeeping and fund management.
An important thing to remember is that investing in a 401(k) now can help you reap tremendous benefits in the future. Employees will gain tax-deferred growth and compounding. Since less than half of all small companies offer retirement plans, offering a 401(k) give you a competitive advantage.
How Do You Select a 401(k) Plan?
There are three basic 401(k) plans that employers can offer. These include:
Traditional 401(k) plan: This plan is the most common. It's very flexible, as it does not curb employers from making contributions. You can choose to contribute the same amount for all employees and can even decide to match your employee's contributions. You can also choose when to have these savings vested (put funds under the employee's control).
Safe harbor 401(k) plans: In these plans, the employer needs to make specific employee contributions. Upon meeting certain rules, the employer is allowed to pass over the Actual Deferral Percentage (ADP) test, the Actual Contribution Percentage (ACP) test and the Top-Heavy test contributions. This will result in a lot of savings for that employer. This is a bureaucratic loophole that gives the employer more flexibility. (Ask your fund manager or third-party administrator for guidance on these issues)
Automatic enrollment 401(k) plan: You can choose to have your employee's savings automatically deducted. In fact, under this set-up, they have to tell you they don't want to be in the plan. Defaulting your employees has been shown to improve participation and boost their total retirement savings. If you are going to default it is good to have a "QDIA" to help protect from liability. A QDIA spells out what you can and can't do when you offer automatic investing. To learn more about the steps you need to take if you are thinking about defaulting your participants, read our QDIA guide.
Profit-Sharing plan. You can also choose a profit-sharing plan within the 401(k). This is especially beneficial for small businesses, as it allows employers access to funds for business. In the profit-sharing plan, the employer invests part of the 401(k) savings in the company's business in exchange for a profit share. This profit share is vested and this provides greater security to the employer.

Other Small-Business Retirement Plans
While it is beneficial, a 401(k) isn't the only way you can help your employees. A SIMPLE IRA savings account is another option you could consider, especially if you run a business with fewer than 100 employees. (SIMPLE stands for Savings Incentive Match Plan for Employees Individual Retirement Account.
Like a 401(k) with a matching employer contribution, the SIMPLE IRA can be defined as a tax-deferred savings account where the employer contributes to the savings of the employee.
A SIMPLE IRA plan functions just like the 401(k). But, the added benefit is the lower set-up costs and fewer administrative rules. The deductions are also made pre-tax, ensuring that savings are higher in the long run.
Contribution limits to the SIMPLE, however, are not as generous as the 401(k). You can only put in up to $12,500 annually; $15,500 if over 50 (in 2017). And there are some additional rules that only make it suitable for smaller companies:
The SIMPLE IRA plan can only be started by employers who have fewer than 100 employees.
The employer has to make regular contributions to the SIMPLE IRA, whereas, the employees are exempt from this.

The contribution limit is much lesser than other savings plans (see above)

Employees above the age of 50 years are eligible to get a greater contribution by the employer.

The SIMPLE IRA plan cannot be converted into any other form of IRA plan.

Just like the other savings plans, the SIMPLE IRA plan also involves a 10% penalty on any withdrawals made before age 59 ½.

The costs involved with setting up the SIMPLE IRA plans are much less and the company doesn't have to worry about incurring much financial liability. Unlike the 401(k), there isn't much paperwork to be done while setting up the SIMPLE IRA plan.

The SIMPLE IRA plan allows both employers and employees to contribute to the plan, through regular payroll deductions. This means employers don't need to worry too much about how the deductions will be made.

The plan is 100% vested. This means that employers have more control over attrition. Once employees put money into the plan, they have full control over it. This may help you retain employees, because they will have an immediate stake in their retirement plan.

Employers are allowed to either pay a dollar-for-dollar match -- up to 3% -- or contribute a non-elective 2% in this plan. This is extremely beneficial for small businesses, as there is no obligation to pay contributions higher than these limits.
To learn more about a SIMPLE IRA click here.
Choosing the Right Retirement Savings Plan
Want to compare the two types of plans side by side? Here are the differences between the SIMPLE IRA and the 401(k):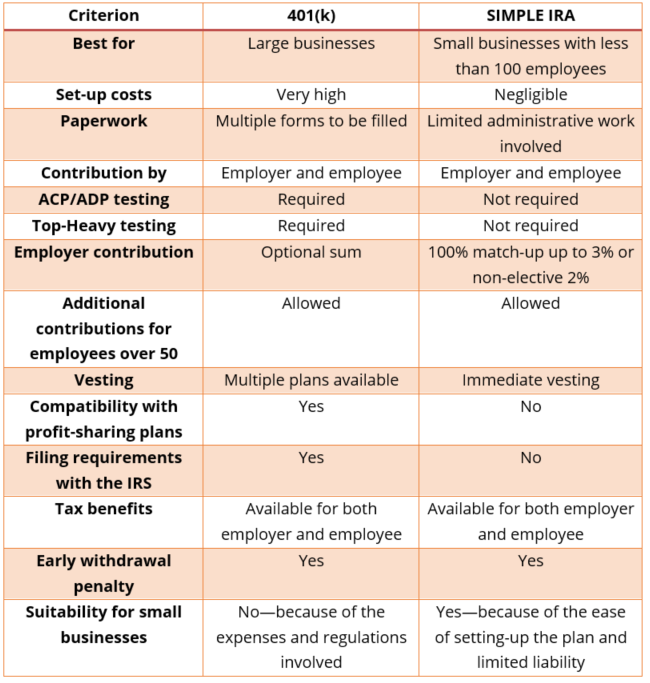 How to Make the Right Choice
You can boil this decision down to two questions: 1) How much of a retirement plan do you want to offer and 2) How much do you want to spend setting it up, administering it and contributing to it (if you're in that financial situation).
The SIMPLE IRA plan is worthwhile because it is a low-cost savings plan that also does not have to comply with multiple rules, making it easier to administer. Simultaneously, this plan is inflexible because it offers very limited options to employers and has a very low contribution limit.
Want to offer a greater capacity to save? The 401(k) is more flexible, offers more routes for contribution and profit sharing. But, at the same time, the 401(k) is extremely expensive for small businesses (thousands of dollars to set up and run) and needs to pass multiple tests and regulations before employers can offer them. They are also difficult to administer.
How much time and resources can you devote to setting up a plan? If you are looking for a plan that is easy to set up and results in little to no liability, then the SIMPLE IRA plan is the best solution. However, if you don't mind the higher liability, but wish to provide your employees a more flexible savings plan, then the 401(k) is your answer.
The bottom line is how you want to treat your employees. Happy employees are one of the most vital contributors to the success of a business.
By helping your employees plan for their retirement, you can build a happier and more satisfied workforce. With reduced attrition, costs involved in re-hiring and re-training employees can be avoided. This will help your business grow.
GuidedChoice offers one of the only SIMPLE IRA's on the market that comes with professional management. If you are interested in learning more about how we can help you and your employees reach their retirement goals, contact us today.